Quebec Immigrant Investor Program Remain Suspended
Today, by way of ministerial decree, Quebec's Minister of Immigration, Francisation et Integration (MIFI), announced that the Quebec Immigrant Investor Program (QIIP) will remain suspended until January 1, 2024.
In this decree, the MIFI reiterates its desire for Quebec to make changes to this program in order to promote the long-term settlement and socio-economic integration in Quebec of selected investors.
Recent update on the processing
As of January 2023, on the 1 900 files submitted before september 2019, there were ±500 files still to be processed by MIFI. Those files should be finalized by the end of summer 2023.
To speed-up the process, MIFI has announced it will conduct interviews in Hong Kong and Abu Dhabi between April and June 2023 to finalize its inventory.
As for IRCC's inventory of Quebec investor files, as of Feb. 28, 2023, it was as follows: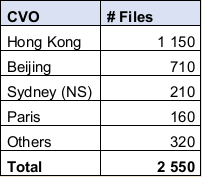 As you know, AURAY Capital has always been a leader in the QIIP, notably through its various actions with different stakeholders.
The positive conclusion we can draw from this announcement is the government's desire to maintain the QIIP. We will therefore continue working closely with our various partners for the reopening of the QIIP before January 1, 2024 and will do our best to make the new PIIQ attractive to all parties concerned.
Newsletter
Keep up to date with our experts' advice and the latest recruitment and immigration news.
I subscribe